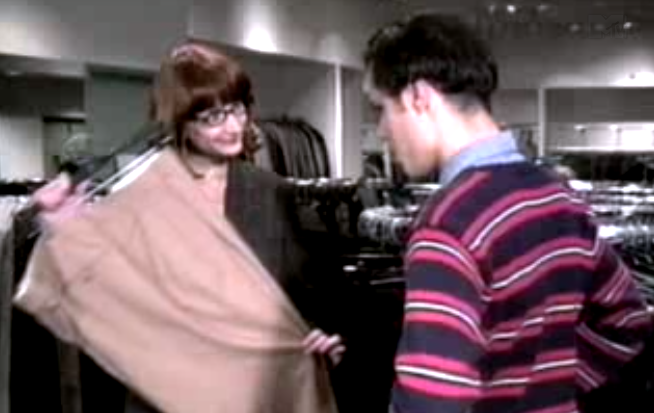 There's a sketch called "Pants" that I've always loved from the early 90s comedy show The State.
A young Michael Ian Black sidles up to a woman in the library and attempts to hit on her. Disgusted, she rejects him on sight.
Ben Garant is reading at a nearby table and says, "Hey buddy, you want some advice? If you want to meet women, you should start wearing pants." The camera zooms out to show Black wearing tighty whities with his collared shirt and sweater.
Black says, "Pants, eh? Thanks! I'll try it." He marches off to the pants store. Through much trial and error, the saleswoman, Kerri Kenney, helps him find his very first pair of pants. He marches back into the library, impresses the woman who had rejected him, and walks out with her on his arm.
Garant watches them leave. He says, "That's OK for him, but I'm still alone!"
Kenney approaches him and says, "Why don't you try taking some of your own advice?" The camera zooms out to show Garant wearing skimpy gold bikini briefs.
"I think I will!" he says. He takes Kenney's arm, and they head off to find him some pants of his own.
I love this sketch because of the random humor that's a trademark of the comedy troupe behind the show (if you don't know them from The State, you'll know them from Reno 911!). I also love it because the line, "Why don't you try taking some of your own advice?" is, well, great advice.
I'm an empathetic person, and I like to think that I give advice that helps people move forward when they're having a hard time. Usually, I've been there and can share what helped me through it all.
It's much more difficult, however, to give myself the same compassionate advice when I'm the one having a hard time.
Here's the kind of conversation that I've had with a friend more than once:
Friend: I'm so overwhelmed right now. I feel like I'm failing at everything.
Me: You have a lot on your plate, and you're doing as much as you can possibly do! Look at all the successes you've had lately (names examples). That really doesn't look like failure to me.  
But when I'm overwhelmed and feel like I'm failing? This is what I think to myself: Why are you such a mess? Get your shit together already. 
It's like I have a gigantic blind spot to all of my own little victories — and also to the advice that I'm able to share with other people. When I read old entries on this very blog, I'm reminded of the strategies that I've used to be kinder to myself, like "Stop 'Should-ing,'" and I think, "Hey, that's a great idea. Maybe I'll try that." How easily I forget.
Not long ago, shortly after I'd posted about silencing the Thought Bullies, those abusive thoughts came to me in the early morning hours, as they so often do. I remembered the words I'd written, about the advice that I'd give a friend if she was anxious and called me in the middle of the night: Cut yourself some slack. You did the best you could with what you had at the time. 
I said those words silently to myself. I really meant them. And you know what? I calmed down and went back to sleep.
Elizabeth Gilbert writes about having this type of conversation with herself in Eat, Pray, Love. While she's in Italy, otherwise enjoying its food and language and beauty, her old nemeses Depression and Loneliness track her down there. She begins to panic and reaches for the private notebook that she keeps for emergencies like these:
I open it up. I find the first blank page. I write:
"I need your help."
Then I wait. After a little while, a response comes, in my own handwriting:
I'm right here. What can I do for you?
She has a dialogue with herself in that notebook, then goes on to say:
I've been surprised to find that I can almost always access that voice, too, no matter how black my anguish may be. Even during the worst of suffering, that calm, compassionate, affectionate and indefinitely wise voice (who is maybe me, or maybe not exactly me) is always available for a conversation on paper at any time of day or night.
That night in Italy, she writes this to herself:
I'm here. I love you. I don't care if you need to stay up crying all night long, I will stay with you…There's nothing you can ever do to lose my love. I will protect you until you die, and after your death I will still protect you. I am stronger than Depression and I am braver than Loneliness and nothing will ever exhaust me.
Finally, she drifts off to sleep holding the notebook that contains her own encouraging words.
All of us carry this "best self" with us all the time. It's the one that comes out when our dearest friends need our counsel, and it's the one that we owe it to ourselves to summon when we're the ones who are struggling. Why should everyone but us benefit from the wisdom that we're handing out like candy? Let's try taking some of our own advice, shall we?
The next time I give encouragement to a friend, I'm going to listen carefully to the words that I say to her, and file them away — maybe in my own private notebook — so I can repeat them to myself.
Leave a Comment: What's some good advice that you've given a friend and could benefit from yourself?