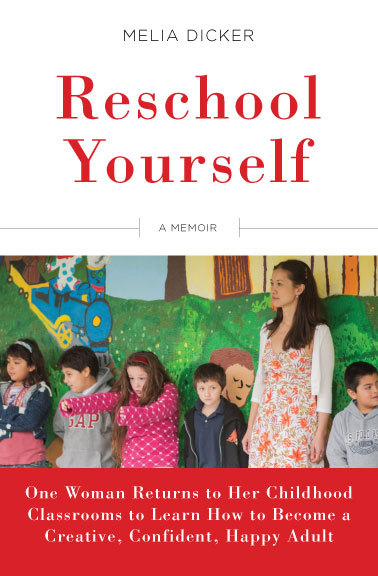 One of my great fortunes in life is to have married an enormously talented graphic and web designer. Darren and I started dating just as I was beginning the Reschool Yourself project, and he volunteered to do the logo, website, business cards, and all manner of other design-related tasks. His latest beautiful creation is a cover for the future Reschool Yourself book.
Seeing this cover makes my stomach do a happy flip-flop because I can actually picture my book on the bookstore shelf next to my favorite memoirs of transformation, such as Eat, Pray, Love, The Happiness Project, and Wild. I can imagine running my hands over the cool, smooth covers of my hardback and seeing my own words in black and white as I flip through the pages.
Little by little, I'm getting closer to realizing the dream. There are many more steps to take before I can publish the book — more writing and editing and finding an agent and building an audience — but the cover gives me fresh motivation to keep moving forward. This image will be the centerpiece of my vision collage for the coming year, which has a pretty good track record of keeping me focused on my goals and making them a reality.
Perhaps one day soon you'll see this cover in a bookstore near you. A girl can dream!
mjdicker November 26, 2014 About the Projectbooks, goals, vision collage, writing 2 Read more >