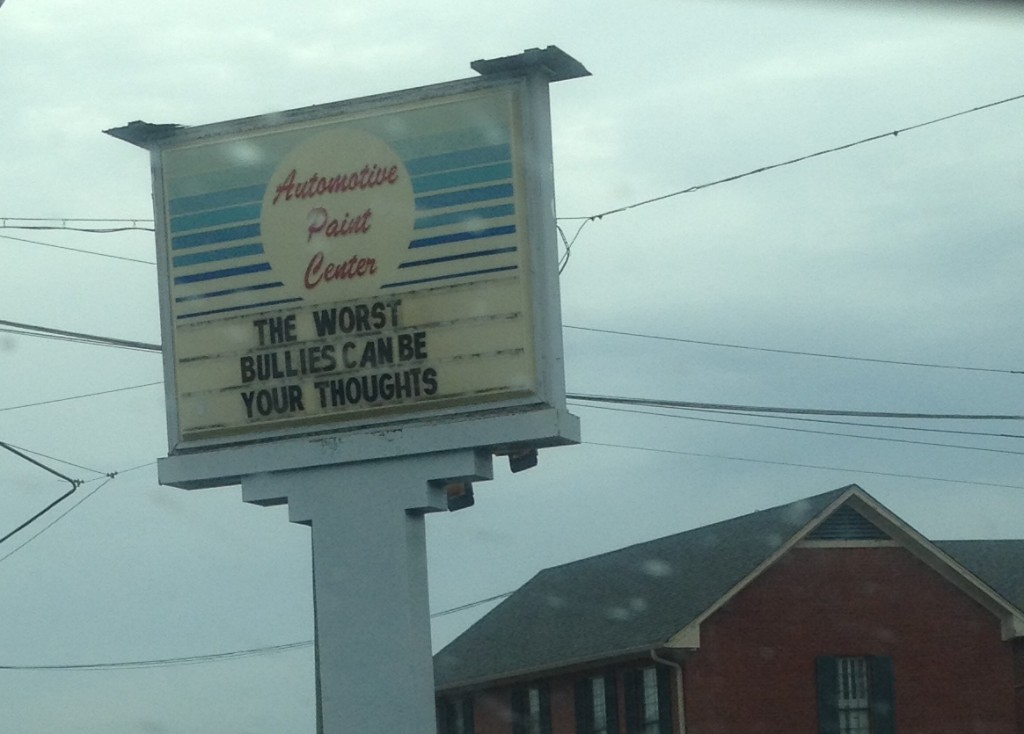 A sign caught my eye the other day as I drove by a mom-and-pop paint store. It said, "THE WORST BULLIES CAN BE YOUR THOUGHTS."
I love this kind of roadside wisdom — it pops up in the most unexpected places and sticks to you like Velcro.
This sign especially resonated with me because there has been no bigger bully in my life than my own thoughts. On the one hand, I'm fortunate that I haven't ever been seriously bullied by other people. On the other, having my own thoughts bully me every day of my life has been just as debilitating. The Thought Bullies — otherwise known as Inner Critics — follow me around 24 hours a day, 365 days a year, and they know all my weak spots.
Most times the Thought Bullies come find me in the middle of the night, when I'm most vulnerable. As a kid, they would whisper in my ear that robbers and murderers could break into my house any second. They planted worries about school, too, how it would affect my future. My mom tells me that when I was in third grade, I was studying for a math test one night and suddenly broke into tears. "If I fail this test, then I won't get into a good college," I sobbed. "And then I won't get a good job, and I won't have any money, and my children will staaaarve!"
It's kind of funny now, the thought of an eight-year-old having a major crisis over providing for her future children. But at the time, the anxiety was very real. More than two decades later, I still have these kinds of episodes and easily work myself into a panic. Nearly every night since the baby was born — and really, since I was pregnant with him — I've been up sometime in the wee hours, and inevitably the bullies come a tauntin'.
These days, they berate me about the past, about things I've done and failed to do. They rattle off a litany of sins for which I should repent. Why did you act so huffy with Darren the morning before his big presentation? Why did you post something whiny on Facebook that does not reflect your best self? Then they twist the knife the way they do night after night: Why have you let the Reschool Yourself project collect dust for so long? Why haven't you finished your book already? Pretty soon I'm wide awake with my heart pounding, instead of getting the sleep I need so desperately. There are a lot of names for this behavior: worry, anxiety, rumination, perfectionism, catastrophizing, and generally being hard on myself.
It's not easy to reason with the Thought Bullies, so these are 5 strategies that I use to cope with them:
1. Snap myself back into the here and now.
It's so easy for my thoughts to drift into the past or future and go around and around endlessly. The best place to start is to snap myself back to reality by doing something that gets me out of my head. In the middle of the night I can grab my phone and read The Onion or look at photos of Evan. During waking hours, I bake — which requires me to measure and mix and taste — or play guitar and sing, which helps me breathe easier. When I lived in San Francisco, I'd lace up my running shoes and sprint up and down the hills for 15 minutes. These days I'll do a couple of quick yoga poses or stretches. Having a child around helps, because whether they're screaming or giggling, they are very much in the moment and require you to be, too.
2. Give myself the advice I'd give a friend.
One of my greatest challenges is to treat myself the way I would treat a friend. I would never, ever say the things to a friend that I think about myself. NEVER! When the Thought Bullies say, Why did you screw that thing up? You're so stupid!, I tell myself, Cut yourself some slack. You did the best you could with what you had at the time. Things turn out the way they do for a reason, even if it's not clear right away. This is what I would say to a friend who was beating herself up, yet so rarely do I think to say it to myself, especially in the middle of the night.
3. Talk it out.
Darren has encouraged me to share with him what's on my mind, which I was hesitant to do at first for a lot of reasons. I didn't want to burden him or sound unreasonable; I also thought I'd be feeding my fears by verbalizing them. But the opposite ended up being true. Talking out my worries gave me a pressure release valve, and often just naming them out loud took their power away.
4. Write it down.
Darren suggested that I tell him every single thing that was worrying me, and he would write it down. "Get it out of your head," he told me. So we made a long list. Getting rid of the critters we hear in the walls sometimes (squirrels, we think). Eating more vegetables. Repainting the bathroom. And so on. It felt good to have to stretch for items to add. "Now we can start knocking them out and checking them off, one by one," Darren said, pragmatic as always.
Journaling, too, helps immensely every time I make time for it. Even a page at the end of the day allows me to be completely honest and process some of the worries that would otherwise haunt me.
5. Channel the anxiety into positive action.
I ask myself, "What would resolve this thing you're worried about?" and then, "What's one step you can take to get you closer?" When I was upset about getting so many late fees, I put recurring reminders on my Google Calendar to pay the bills. When the clutter around the house was driving me crazy, I bought new fabric boxes at Target to organize it. Anxiety can be productive when harnessed and directed toward a goal.
***
Schools today generally have some kind of anti-bullying curriculum designed to increase tolerance and compassion, and to teach kids what to do if they're being bullied. Maybe one day it will include strategies for coping with your own Thought Bullies, who can be the worst of the bunch — and the ones that can follow you around for a lifetime, if you don't know how to silence them.
What strategies do you use to deal with your Thought Bullies? Leave a comment!
mjdicker November 16, 2014 Personal Developmentanxiety, bullying, worry 2 Read more >