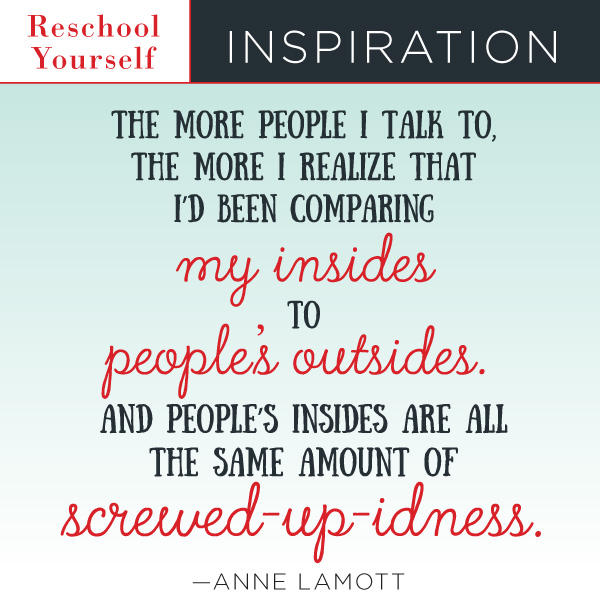 The quote above is from an Anne Lamott piece in Salon about forgiveness that really struck me. I love how she puts this. I tend to think of "people's outsides" as "the Facebook version of their lives," or "the highlight reel." It's easy to get tricked into thinking that everyone else has a picture-perfect life, while yours is humdrum at best — or that you're the only one who is having a tough time. The reality is that our outsides tell only one part of the story. The high points may be authentic, but they're only part of the full picture.
My own Facebook timeline is Exhibit A. Of the last few posts I've made, four are pictures or videos of my 15-month-old son being adorable, and one is an article about loving life in Mississippi. All of these moments and sentiments are real, but what doesn't show up on the page are all of the other moments that have lately stretched my patience thin. I've been sick with a bad cold for the past week, which has coincided with Evan cutting four molars at once and my trying to wean him from breastfeeding. Consequently, he has spent a large portion of the week wailing and shedding heartbreakingly big baby tears. He's been waking up at 3 am crying and then rising for the day around 5, which has left me feeling exhausted and eager to get through this phase.
On Thanksgiving Day I posted a photo of Evan enjoying little portions of turkey and all the fixins, but what I didn't say is that he had raised hell all morning while Darren and I were trying to cook, to the point where it was hard to remember my blessings. I also didn't mention how much I missed spending the holiday with my family, and when I didn't get to join their Google Hangout because of a tech glitch, I nearly cried. That stuff doesn't get a lot of likes on Facebook, so I keep it to myself.
When all we encounter are people's outsides — the pleasantries exchanged in passing, the smiling family Christmas cards adorning our refrigerators, the vacation photos on Instagram — it's not unreasonable to think that everyone else is having a better time than we are. They seem more successful, happier, and luckier in love, and their kids never throw tantrums in the middle of the grocery store.
The truth is that any given day is a blend of the sacred and the mundane and the challenging, and that we have no idea what's really going on with people under the surface. It's a relief to remember that we all have some degree of "screwed-up-idness" inside. ALL of us.
I love Elizabeth Gilbert's Facebook feed (and really, I love her in general) because she makes a point of sharing her whole story with readers, not the sugarcoated version. This week she posted about how she has committed to exercising for 20 minutes per day in spite of how much she loathes it, but every day she tries to make excuses and talk herself out of it. Then she goes ahead and does it anyway. Several women commented that when faced with a dilemma, they ask themselves, "What would Liz do?" To this, she responded, "Often WHAT LIZ WOULD DO is get a little weepy, feel a little overwhelmed, beat herself up a bit…and then eventually get sick of her own drama…and only then: ACT. (I'm working on eliminating some of those preliminary steps!)"
In a recent talk, Gilbert said, "For me, peace comes when I … embrace the beautiful mess that I am," she says. "And embrace the beautiful mess that you all are, and that this world is, and just let it be that."
No matter how we present ourselves on the outside, we're all a beautiful mess on the inside. So let's stop comparing ourselves and embrace that, shall we?
mjdicker December 5, 2014 Personal Developmentbeauty, challenge, comparisons, forgiveness, jealousy 5 Read more >