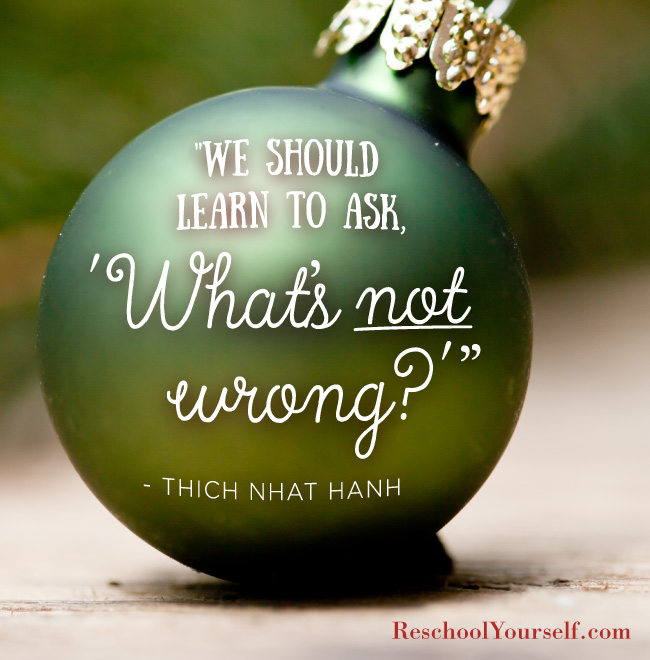 This holiday season, I've been nostalgic for the kind of Christmas that I was lucky enough to have as a child. It was my favorite time of year, hands down. My family and I would drive out to a local Christmas tree farm in my dad's truck, sitting four abreast, and cut down a divine-smelling Douglas fir. Back at home, we would put carols on the tape deck — Bing Crosby's "White Christmas" and New Kids on the Block's "Merry, Merry Christmas" were our favorites — and string colored lights on the branches. We'd unwrap newspaper from each ornament and smile as we remembered the person who gave it to us or the fond memory that it brought back. My sister and I helped our mom make fudge and three kinds of butter cookies, and on Christmas Eve my family would go to Mass, eat a home-cooked meal, and open presents. The whole season was filled with excitement and real holiday cheer.
Now that I'm an adult and a parent and I live far from my childhood home, I've had a much harder time getting into the Christmas spirit. I now understand why the holidays are the most stressful time of year for a lot of people. Everyone is rushing — to get work out the door before vacation, to drive out to the mall and pay for their purchases, to get the house clean and the meal prepared before family arrives. Then there are the financial strains. Being practical and money-conscious, the whole concept of Christmas shopping is stressful for me, because I don't want people to buy me anything out of obligation, and vice versa. On top of that is holiday fundraising and sending Christmas cards and taking Santa pictures and braving the long lines at the post office. AND, AND, AND. There's a lot more effort that goes into preparing for Christmas as a grown-up than as a child, and it's difficult to accept that it isn't the magical, carefree time that it was back then.
I had a mini-meltdown the other day because I let all of this holiday pressure get to me. I'd been so proud of myself for turning around our Christmas card quickly, and for completing a mad errands dash that included picking up the cards, exchanging lampshades at Target, going to the pharmacy, and buying stamps before I had to pick up our son from school. But when I got home, I realized that the lampshades were the wrong kind, and the 4×6 card we'd designed looked too small compared to the 5×7 that we'd done last year. In that moment, all of the effort I'd gone to seemed to be for nothing. I could feel the dark clouds gathering over my head.
Darren tried to reason with me, as he always does when I get like this, but it was futile. I could see that the holiday cards on our fridge were of various sizes. I knew that not one single person would open the card, see our smiling baby boy, and say, "I would really enjoy this card, if only it were bigger." In that moment, it didn't matter, because I wanted the card to be different than it was, and because it wasn't, it felt ruined altogether. That's the trap of perfectionism, of course, and the reason that it's a surefire recipe for unhappiness.
It took a mood-shifter — in this case, the star-studded musical sendoff for The Colbert Report — to snap me back to reality and stop ruminating. I could see that the lampshades and the Christmas cards and the rest of it all qualified as major #firstworldproblems. I was able to step back for a moment and ask myself, "What's NOT wrong?" — and the answer was, "So much."
Even though most of my family members live far away and I miss them, I am fortunate to have a family who loves me and would do anything for me. Even though toddlerhood has been very, very challenging, I have a healthy son who makes me laugh every day, and a husband who is a doting parent and my most unflagging supporter. I have a job that I love, a financial situation on the upswing, and a community full of caring neighbors and friends. There is PLENTY in my life that is not wrong.
I went back to Target the next day and exchanged the lampshades again, this time for the right kind. I got to see how much the Christmas card made my coworkers smile and accepted that it was great just the way it was. I made a point of listening to Christmas carols and baking cookies from my family's recipe to get into the holiday spirit.
I'm coming to terms with Christmas being more of a crazy time than it was when I was a child, but perhaps I can make it as magical a time for my son as it was for me. No, our tabletop Christmas tree from Kroger is still not decorated, and it may not ever be this year. There will probably be a few more tense moments to come, whether the turkey isn't ready when I'd hoped it would be or the baby wants to eat the cookies instead of the roasted vegetables. But in the midst of it all, I will keep asking myself, "What's not wrong?", so I can look around and appreciate all the things that Christmas is really about.
What's NOT wrong in your own life? Leave a comment!
mjdicker December 23, 2014 Personal DevelopmentChristmas, family, gratitude, holidays, nostalgia, perfectionism, stress, Thich Nhat Hanh 8 Read more >