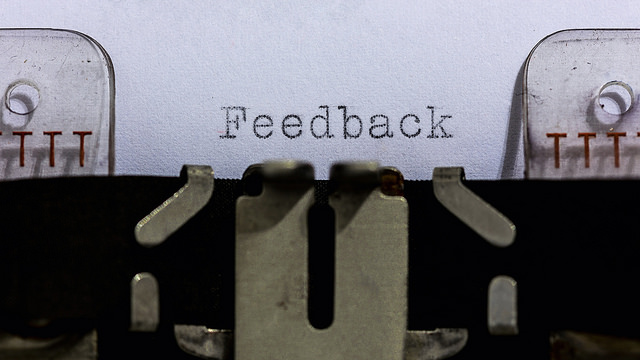 For me, one of the most rewarding parts of writing is getting feedback from readers. I remember catching the bug for this when I took a creative writing elective in high school. My classmates and I would move our desks into a circle and take turns reading our work aloud. When I got a laugh or a knowing nod in the places where I'd intended them, it meant more to me than any letter grade ever could.
I didn't do much creative writing in the ten years between high school and the time that I started blogging about Reschool Yourself. When I began posting to the blog, it took me awhile to get comfortable with sharing my work again. I wanted to wordsmith every sentence to death, but I soon realized that this just isn't the nature of blogging. Blogging is fast, it's conversational, and it's often raw.
What helped motivate me to ship my work quickly was receiving comments from readers right away. There was nothing better than knowing that what I wrote resonated with or inspired someone, or that I'd captured in words something that they'd experienced but hadn't known exactly how to describe.
While I was doing the project, I remember writing a post called "Growing Pains" at one of my lowest points, when I was truly struggling. It was one of the most vulnerable pieces that I'd ever written, and I was a little worried that it would depress people. I was surprised when this post in particular seemed to strike a chord. Here are a few excerpts from comments that people left:
Oh, how I feel your pain. Hang in there, love.
Dear Heart! Take courage! You are doing a beautiful job.
Eerily, I know *exactly* how you're feeling.
Knowing that people understood what I was going through and were there to support me through it all was incredibly therapeutic.
Other times, my stories about school prompted people to share their own in the comments. They talked about how awful P.E. classes were, and about the lasting impact their favorite teachers had left on them. They shared deeply personal memories, and I learned things that I hadn't known about even my closest family and friends. When I wrote about returning to my middle school, my cousin Lynn wrote:
I. HATED. MIDDLE SCHOOL…I think I should do a reschool experience too just to feel loved in 7th grade and erase the bad memories.
It was especially rewarding when strangers came across my writing and felt that it spoke to them. A young woman named Bonnie from Smith College in Massachusetts wrote:
I just stumbled upon this site tonight, and let me tell you: it is EXACTLY what I needed to hear. I am about to enter my last year of undergrad, am feeling entirely stressed and misdirected and not connected to my work. And I feel like I'm missing something in my childhood and in my education – that playful creativity, as you mentioned. But do I still have to finish this year? I want to reschool myself!
All of the difficult moments of the project felt worthwhile when I read and responded to these comments. It filled me with happiness to have added something positive to people's lives. I loved feeling connected to my fellow humans through our shared experiences.
Of course, reader feedback isn't always warm and fuzzy (oh, how I wish it were!). I'm still a bit terrified to publish a book because of the inevitable negative reviews that any real writer receives. I'm scared that some people will dismiss the project as a silly stunt, and that they won't think my writing is any good.
But when I look back at the sincere and thoughtful comments that people have left on my posts, I feel more confident that I can ignore the naysayers and focus on the people who find value in what I write.
It's scary to put something so dear and personal to you as a piece of writing out into the world. But I've found that the potential reward, for both you and for the people that you can affect with your words, is well worth the risk.
This post is part of the seven-day Your Turn Challenge hosted by Seth Godin's team. Flickr photo by dskley.