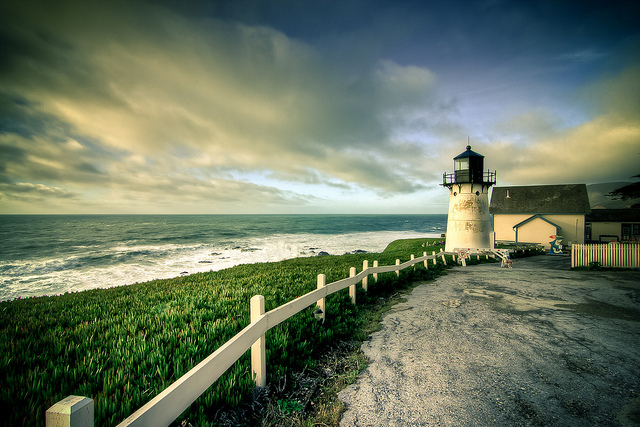 I was 28 years old when I realized that I didn't like where my life was headed.
To most people, I'm sure everything looked fine. I was in good health, was working full-time in the youth program that I'd co-founded, and had a busy social life in San Francisco. But I knew in my core that I wasn't fulfilled by it all, and I wasn't ever going to be. The hard thing was, I had no idea what I'd do instead. So I kept plodding forward.
I fell into a deep depression that winter. I felt like I was being swept away in a current of my endless To-Do lists for and social commitments. It was so bad that even when my family came together for Christmas at my parents' house, which was my favorite thing in the world, it couldn't lift my spirits. From behind the closed door of my childhood bedroom, I could hear my mom and sister laughing together in the kitchen. Normally I would have walked down the hall and joined them, but I just sat there by myself, because I didn't feel like doing much of anything. I knew that if I didn't make a big change of some kind, and soon, I would be in real trouble.
The only thing I could think to do was to get away and clear my head. I'd always wanted to take a reading retreat and hole up in a cabin somewhere, just me and a stack of good books. My nonprofit salary didn't leave me much disposable income, but I found a hostel on the coast that was surprisingly affordable. After Christmas, I packed my Jetta full of books, art supplies, and my laptop — strictly for reading and writing, not for email — and drove out to the beautiful Half Moon Bay.
It was revolutionary for me to wake up and have the whole day to myself, with no plans or obligations. I jogged. I journaled. I sat on a bench and watched the waves crashing on the rugged cliffs below. At the hostel I sat by the fire and read for hours. Taking that retreat was the kindest thing that I've ever done for myself, before or since.
A day or so into my stay at the hostel — which I'd planned for two days but extended to four — I began to have ideas again. Actual ideas. I was used to keeping my mind and schedule so full at all times that I could only execute the tasks in front of me; there was no space for anything new. My brain was like a hard drive that was one hundred percent at capacity. Removing myself from my daily routine and endless To-Do lists — laundry! email! grocery shopping! — opened up a patch of fertile ground that allowed new ideas emerge.
I came into the retreat knowing that I needed to make a change in my life and hoping that I would figure out what it was. It was my last night at the hostel when I finally realized what was making me so unhappy. In addition to overscheduling and exhausting myself, I had been pushing myself to do everything perfectly. I was afraid to take risks and make mistakes. I'd grown so used to doing what I thought I should be doing with my life that I'd lost sight of what I wanted to do. It eventually dawned on me that all of these habits had all begun in school.
When I asked myself what I wanted, the answer was, "A fresh start. A school do-over. A chance to come out a happier person the second time around."
The idea for a project began to form: What if I could go back to my childhood classrooms, from kindergarten through college, and do school over again?
That was the beginning of the Reschool Yourself project. It seemed like a nutty idea, but over the next few months after I left the hostel, through a series of emails and phone calls and face-to-face meetings, I received permission to do the project. I spent the fall of 2008 at my old schools, reliving many of my childhood experiences, and writing about how they were changing me. I finished the project much more grounded and whole than when I began. Shortly afterward, I moved across the country and began a completely new line of work. And yes, I ended up a lot happier than I was when I began.
If I hadn't taken time away from my busy life in the first place, I can almost guarantee that I would never even have had the idea for the project. I would have miserably continued down the wrong path because I simply didn't know what else to do.
We all have ideas just below the surface, waiting to appear when we create the space for them. It could be as small as a solution to a problem we've been wrestling with at work, or as big as an epiphany about the next chapter of our lives. But because we're uncomfortable with silence or being alone, or because we're addicted to being busy all the time, we fill up every spare second with noise. The shower is just about the only place that's quiet and free of distractions, so it's no wonder that people often have big ideas there.
I realize that most of us aren't able to do exactly what I did and take four days off for a retreat, even during the holidays. It certainly wouldn't be feasible for me now that I have a baby. But that doesn't mean I can't create the space to have new ideas. Lately, I've been working on not automatically pulling out my phone when I have a few seconds of downtime. When someone is running late for a meeting or I'm in line at the post office, I have to actively resist the sweet siren song of Facebook. Instead, I'll just be still for a few moments and let the ideas come as they may. This weekend when I was in line at the grocery store, I thought, I want to bake something tonight. Hey, I can make a king cake!  If I'd been scrolling through post after post on social media, I wouldn't be enjoying a piece of cinnamon goodness topped with colored sugar for dessert tonight.
There are other experiments in creating space that I'd like to try, as well. Here's an excerpt from a Wired profile on Amazon founder and CEO Jeff Bezos:
Bezos spends hours at a time thinking about the future: trawling for ideas, exploring his own site, sometimes just surfing the Web, particularly on Mondays and Thursdays, which he tries to keep unscheduled. "I catch up on email, I wander around and talk to people, or I set up my own meetings – ones that are not part of the regular calendar." His surfing isn't always confined to retail: Let the record note that on a Thursday in January he spent five hours on the Web using (his wife) MacKenzie's MSN account, plumbing the depths of his space fascination and learning more about "roton" rockets.
If Jeff Bezos has the time to leave two days per week unscheduled, then I can probably reserve an hour a week, or even a few minutes a day. I'll bet if every day we shut off all of our devices and just took a few quiet moments with our thoughts, we'd all be a little more grounded and have some new ideas that just might change our lives.
This post is part of the seven-day Your Turn Challenge hosted by Seth Godin's team. Flickr photo by konvo.
mjdicker January 20, 2015 About the Project, Personal Developmentcreativity, depression, ideas, perfectionism, Your Turn Challenge 2 Read more >